Martha's blog is adapted from an educational article she authored for the First State Chapter of the Association of Legal Administrators' Newsletter.
Renovations can be a daunting task, especially when you have a law firm to keep operational during the construction process. Recently, we have seen an increase in firms seeking to change their office layout to maximize the use of their current space. For instance, as research, filing, and other work is now mostly technology-based, law firms are trending toward smaller libraries. Many firms are renovating that unused square footage into meeting rooms, computer training areas, and other functional space. Some larger firms have even modified their space to allow for subletting to smaller, out of town firms for trials.
The goal of EDiS' law office renovation work is to successfully complete jobs quickly, safely, and with minimal disruption to employees and clients. With proper planning, good communication, and comprehensive safety measures, the construction team gets in and out while firms stay focused on their business.
1. Planning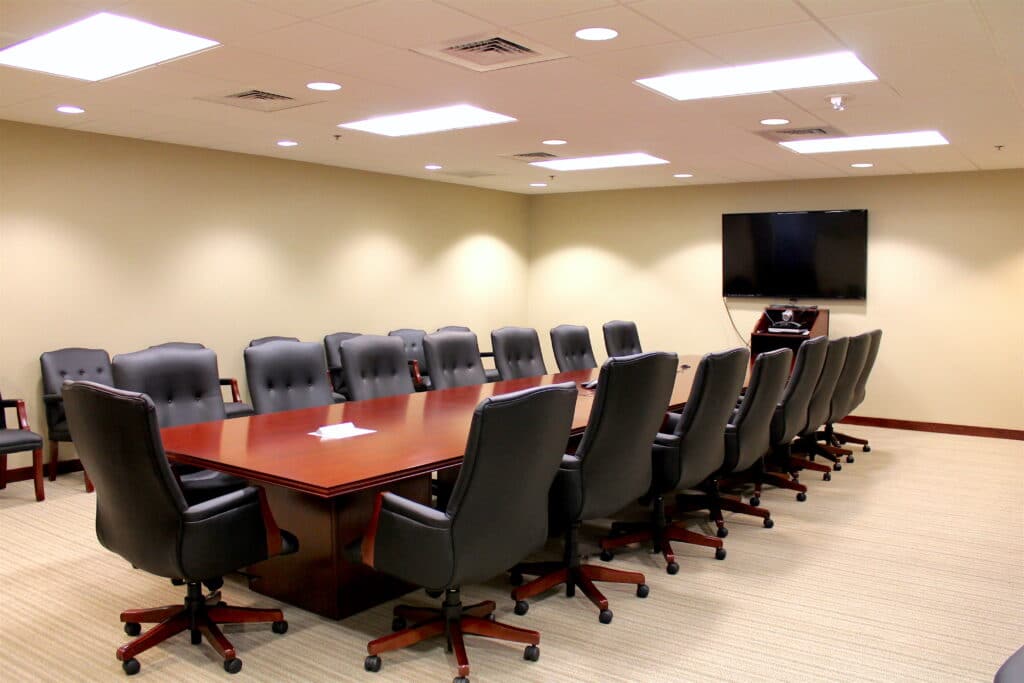 Planning is paramount to a successful law firm renovation. EDiS is often consulted well before a project takes shape to recommend a designer and to create a workable budget. A program is established to best meet the individual needs of the firm. All the variables, such as the optimal hours for construction and the strategies to minimize disruption and provide safety to the non-construction areas, are solidified up front. The stage is set for the most productive outcome before any work begins.
In addition, construction permitting plays an important role in planning. Often the permitting process is influenced by building ownership. If a firm does not own their space, the permitting and construction process must be coordinated with the building owner or manager. And, the plan review itself can add time to the schedule. Our clients get the benefit of our years of interaction with the different permitting entities to provide reliable information on permitting timetables and how they can affect a schedule.
 2. Communication
Good communication is the key to thorough and thoughtful schedule planning. And, because time is money, the longer the renovation schedule, the longer the firm pays for the associated costs of construction and the related impact on operations.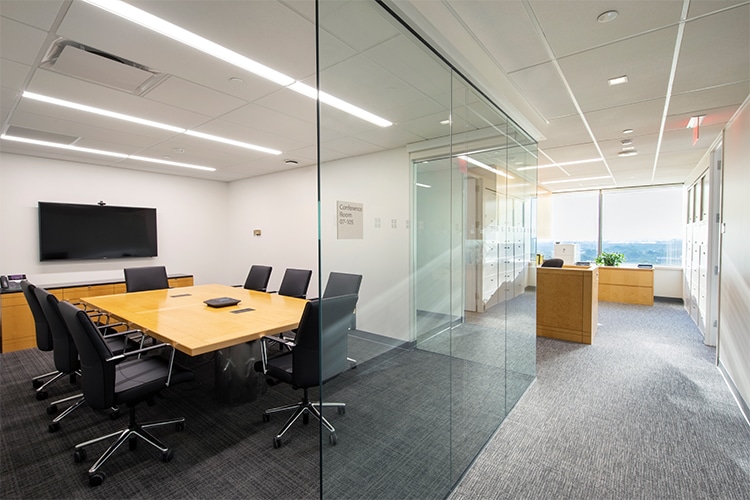 Before the project begins, clear communication between the construction team and the firm – covering the needs of the project from the very beginning to the very end – ensures the project will stay on schedule. Frequent communication to acknowledge what important events will occur during construction and what spaces need to maintain functionality helps the construction process stay on schedule.
Case Study:
In the case of a firm in Wilmington, Delaware, EDiS' project team had to work within a short, four-month period to complete 9,300 SF of phased renovations. The project's deadline was non-negotiable due to a large, previously scheduled firm board meeting. The construction team had to look ahead at each phase of construction to ensure the firm was still able to be fully functional and without disruption. The project was completed by working many off-hours to finish the project in time and to avoid disturbance to the firm's workflow.
3. Safety
Clients and employees are in and out of law offices at varying times of the day. During renovation work, safety for all is a major concern that must be coordinated. Again, through frequent communication and good upfront planning, safety can be maintained while the job progresses.
Case Study:
On another renovation project at a Wilmington-based firm, EDiS' project team constructed a monumental staircase between two floors of the firm's office space. This staircase connects the main lobby reception area to a new conference center. Considering the firm was operating under normal office hours during construction and construction occurred in an area of heavy traffic, the project team built temporary walls to divert foot traffic and limit access to the areas of construction. This allowed EDiS to keep everyone safe and also minimize noise and disruption.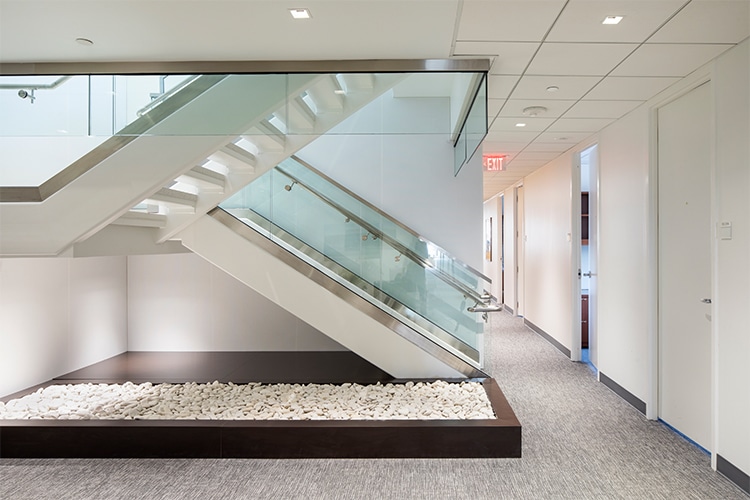 As law offices continue to evolve, the need to renovate space to meet business needs becomes a high priority. For a successful outcome, it is imperative to work with an experienced construction team and think ahead. Thorough planning coupled with good communication is the answer to safely completing renovation projects on time and on budget.
Click here to learn more about our law firm work and the services we provide.