Coordination Time: January 26 – June 15 2022
Total Clashes Resolved: 6,635
Potential Savings: Read on!
Currently under construction, the 32,000 SF Kennett Library & Resource Center will bring new opportunities and possibilities to the Kennett Square community. A great example of a library that supports additional neighborhood needs, the project broke ground almost a year ago and nearly hit some major construction challenges. 
Stay with us as we take you on a brief tangent: many of you aren't sure what value BIM (Building Information Modeling) Services, or Virtual Design & Construction brings projects after design. Even the value during the design process is easy to see – it's what leads to the amazing photo-realistic renderings many people see from our architectural partners. But once design is finished, the need for a model is over, right? Wrong! 
As our architectural partner on the Kennett Library & Resource Center began wrapping up the final phases of design, our EDiS BIM Services team began our own process to determine the project's constructibility through our rigorous Model Check – which we think of as our safety net for the entire design and construction team as a final quality check before construction starts.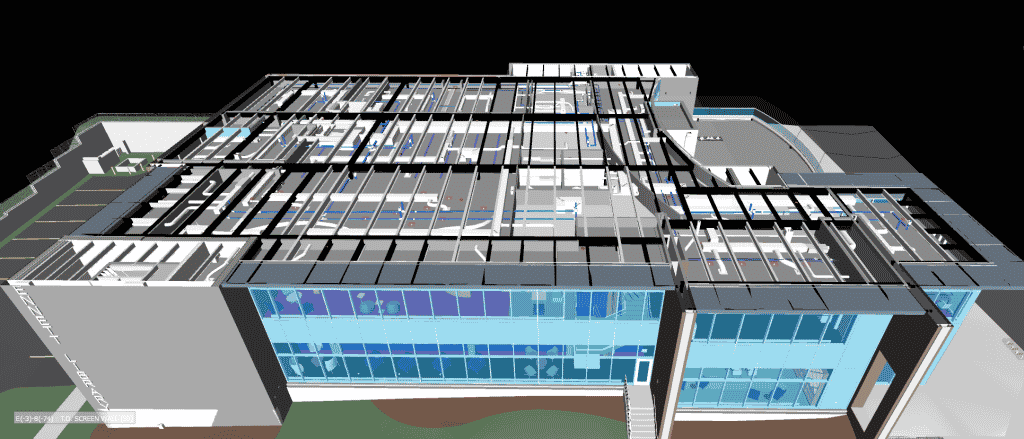 Before
Model Check works in conjunction with 2-D drawings that are overlaid within a 3-D model of the actual building to catch things that, if attempted to be built, would be physically impossible or problematic. During the model check for the Kennett Library & Resource Center roof and second floor mechanical systems, EDiS BIM technicians found the sprinkler mains, duct, and storm piping would run directly into the middle of ceilings and structural steel. Overall, our team caught 18 major clashes. Major clashes are detected constructibility issues in the drawings that have the potential to stall the project entirely, or be very costly to fix once construction has started. This does not account for the 6,635 total clashes resolved, which are very tiny but necessary details in need of fixing.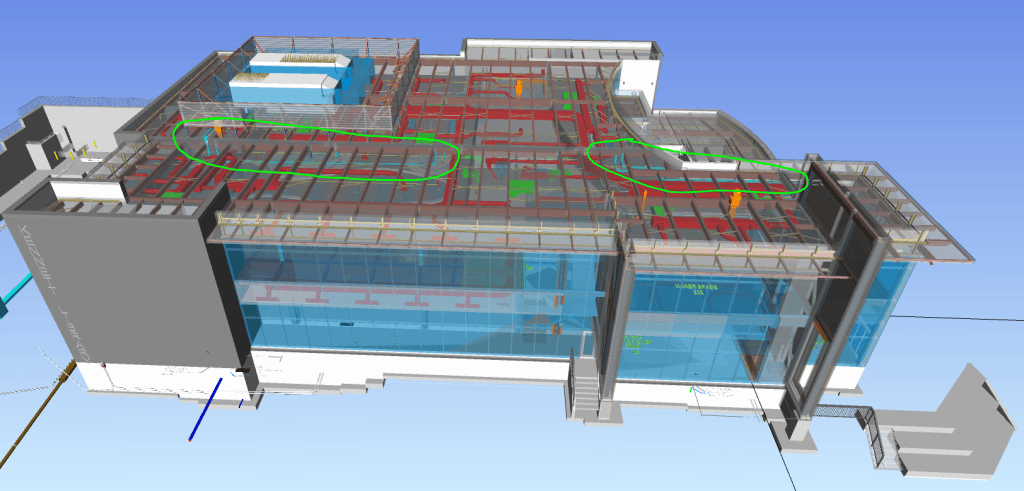 After
After reporting the 18 major clashes to the architect, our EDiS BIM Services team suggested a roof slope redesign to allow for storm piping to be removed and replaced. The revisions allowed for additional room to install the mechanical system that would not have previously fit otherwise, while keeping the overall design intent of our architect that the Kennett Library & Resource Center team fell in love with intact. 
This process and the teams involved found the changes allowed for cost reductions for the overall project. This solution saved a potential submission of 18 change orders, and more than $120,000 in materials cost savings. If found during construction, these clashes likely would have cost over half a million dollars to fix.